Accidents can happen without warning, particularly if a child is allowed to operate a piece of outdoor power equipment such as a lawn mower.
Never allow children less than 14 years of age to operate outdoor power equipment. Children 14 years of age and over should read, understand and be able to follow the instructions and safe operation practices found in the operator's manual of any piece of equipment. These young operators must be trained and supervised by an adult.
Children should not be allowed in the yard or near the equipment when it is in use. Keep children indoors and under the watchful supervision of an adult.
Remember, kids and mowers – or any piece of outdoor power equipment – don't mix.
Children can be SEVERELY INJURED or KILLED in a moment. This can occur by running over a child with the mower – in either forward or reverse – with the blades on or off or when foreign objects are hit and thrown by the rotating blades.
Follow all safety information in the operator's manual and on the equipment, and keep all safety devices in place and working. If damaged, replace immediately. Never remove, bypass or disable a safety device.
It only takes a moment for accidents to occur, particularly if the operator does not see a child approaching the mower. Keep children out of the mowing area and under the supervision of a responsible adult indoors and away from the mowing area.
Never Give Rides
A child could fall off the mower and into the path of the rotating blades. In addition, giving rides will cause children to be attracted to the mower. If a child later approaches without the operator being aware of the child's presence, tragic accidents may occur.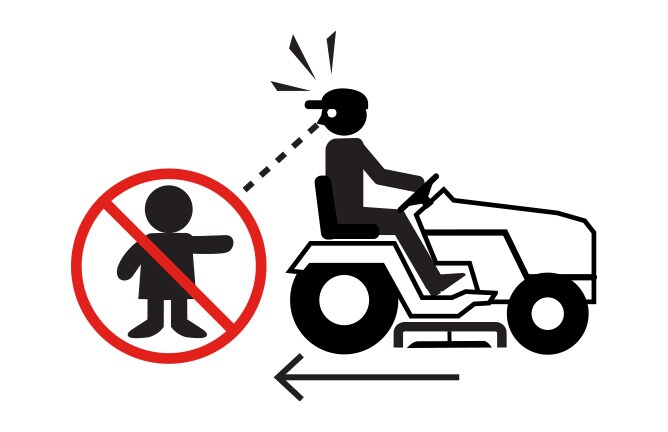 Use Extreme Caution in Reverse
Think first, then reverse — just like a driver does in a car. Operators should keep alert for anyone who may enter the mowing area and always look down and behind before — and while — backing the mower.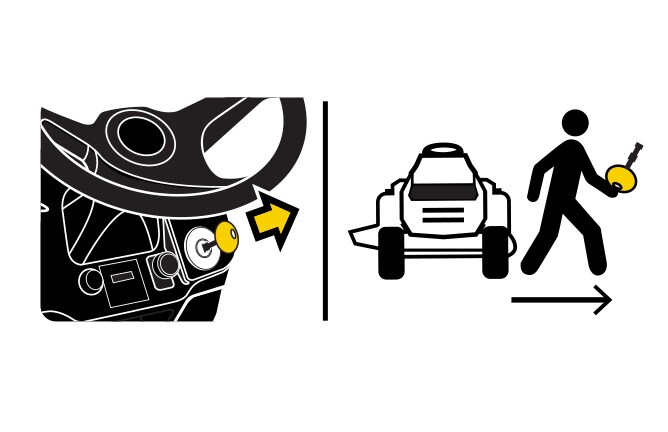 Keep Kids Safe
Operators should stop mowing if a child approaches the mowing area. Never let a child play on — or around — a mower. Remove and keep any keys in a safe place, out of the reach of children and keep the key fob provided on the mower keyring as a reminder of child safety.